< Back to FPT Marine Engines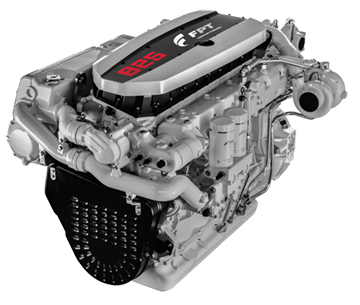 CURSOR MARINE COMMERCIAL SERIES
High power & torque density

Low fuel consumption and emissions

Structural stiffness / low vibration and noise

Up to 600-hour service intervals
Cursor engines offer outstanding power output standards with minimum displacement and the highest levels of reliability.
Professionals of the sea trust Cursor engines for their high innovation level, easy maintenance, and extreme efficiency – that result in competitive operating costs.
Cursor versions for pleasure applications ensure simple installation, excellent performance, quietness, and reliability. They are recommended for yachts and sport-fishing boats up to 18 meters (according to boat displacement).
The Cursor Series is offered in high-performance, light-, medium- and heavy-duty versions. All engines can be customized on request. Options include electronic remote control, monitoring systems, and compliance with international emission standards such as IMO MARPOL, EU-RCD, EU-IWV, USA-EPA Recreational & Commercial, and RINA propulsion homologation.
Specs
C9
– 2 Models: 625  Mhp & 650 Mhp
–

6 CYLINDER, 8.7 LITER

C13
– 4 Models: 500 Mhp to 825 Mhp


– 6 CYLINDER, 12.9 LITER

C16
– 5 Models: 500 Mhp to 1000 Mhp
–

6 CYLINDER, 15.9 LITER
Features
PERFORMANCE: Cursor state-of-the-art technologies guarantee high injection pressure and adamant timing precision under any operating condition. This translates into rapid response at all engine speeds. The 12.9-liter high-performance version can reach 607 kW @ 2,400 rpm maximum power rating.
EFFICIENCY: High power and torque density levels come together with low fuel consumption and contained environmental impact.
RELIABILITY & SERVICEABILITY: Advanced diagnostic equipment allows easier engine servicing. Up to 600-hour oil and filter replacement intervals minimize downtime. To reduce maintenance and increase engine lifespan, the Cursor Series adopts plateau-machined cylinder walls and oil-cooled pistons.
MARINIZATION: Lay-out and specific settings are focused on marine duties. Both engine and turbocharging cooling systems are specifically optimized for the mission. In order to make installation easier (and prevent leakage), the oil cooler, oil pump, water pump, and blow-by system have been integrated into the engine design.
Images
Downloads