< Back to FPT Marine Engines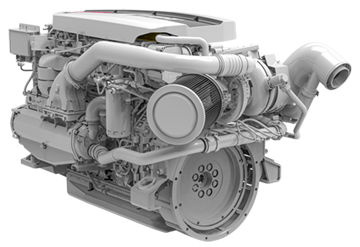 N67 MARINE COMMERCIAL SERIES
Compact and cost-effective
Short load response time
Low fuel consumption
Up to 600-hour service intervals (among the best in the category)
The NEF Series is the widest among FPT Industrial engine families for pleasure and professional marine duties, with four different displacements available in mechanical and electronic versions.

"Professional range" NEF engines are characterized both by advanced mechanical fuel injection and electronic common rail systems, and provide high, constant power and torque delivery, reliability, low fuel, and servicing costs. Keel-cooled versions are also available.

"Pleasure range" NEF engines offer state-of-the-art Diesel technology (Common Rail and electronic systems, 4 valves/cylinder) and ensure high performance, lightweight and compact design – together with low smoke, noise, and vibration. They suit cruisers and yachts up to 12 meters.

The NEF Series is offered in sport, high-performance, light-, medium- and heavy-duty versions, and can be customized on request. Options include electronic remote control, monitoring systems, and compliance with international emission standards such as IMO MARPOL, EU-RCD, EU-IWV, USA-EPA Recreational & Commercial, and Propulsion homologation as RINA.
Specs
7 Models: 420 Mhp to 570 Mhp

6 CYLINDER, 6.7 LITER
Features
PERFORMANCE: NEF engines offer high power output and maximum torque available at low revolution range. Sportive-duty 6.7-liter versions deliver up to 419 Kw (best in class performance in its power range).
EFFICIENCY: Innovative technologies and production processes allow NEF engines to save fuel while ensuring maximum performance and reliability.
RELIABIITY: Advanced diagnostic equipment allows easier engine servicing. Up to 600 hours oil and filters replacement intervals minimize downtime. To reduce maintenance and increase engine lifespan, both mechanical and Common Rail engines adopts plateaux-machined cylinder walls and oil-cooled pistons.
MARINIZATION: Lay-out and specific settings are focused on marine duties. Both engine and turbocharging cooling systems are specifically optimized for the mission. In order to make installation easier (and prevent leakage), the oil cooler, oil pump, water pump, and blow-by system have been integrated into the engine design.
Downloads