Customized Diesel Engines for OEMs
At Stauffer Diesel, we've been working hand in hand with a wide array of original equipment manufacturers for decades. Thanks to deep experience in product design, engineering, fabrication and diesel engine technology we know how to outfit a custom diesel engine for each unique application.
When we work with OEMs, we do more than just ship engines. We collaborate closely with you in order to support your design and manufacturing products. We stand behind our engines with expert, fast service and support. Please contact us today.
The following graphic shows the most common accessory customizations that we provide for our OEM customers.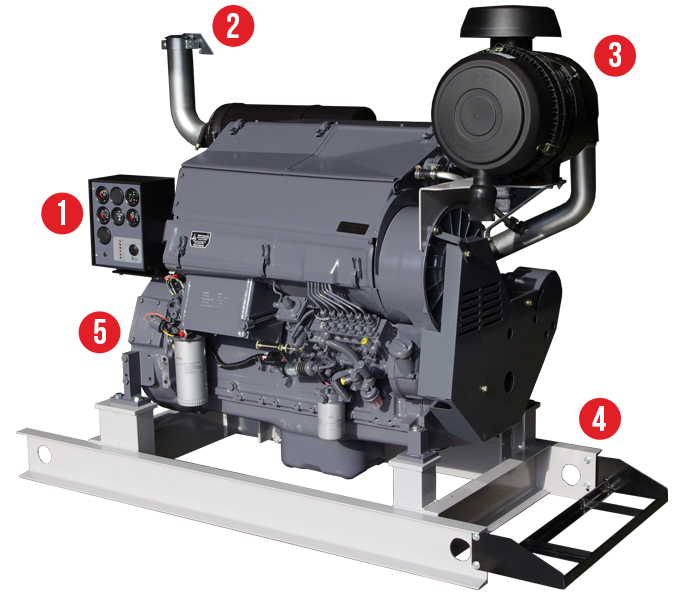 Control System – includes failsafes that connect to the driven machine
Exhaust System – routed as needed based on installation requirements
Air Cleaner Element – including necessary engineering and piping
Skids and Fittings – custom brackets, battery holders and skids
Drive Components – for inline drive, hydraulic pump drive, direct coupling or belt drive
We have worked with a wide variety of clients covering a vast array of industries to develop custom diesel engine solutions over the years. Thanks to a team of sales technicians, engineers, and mechanics who have broad experience in diesel technology, we can design and build a diesel engine package for most OEM applications. The following are just a few examples of custom OEM diesel engines that we developed over the years.
Engines to power aircraft arresting systems – fitted out with custom control panels, PTO clutches, wiring harnesses, relays and cabling
Engines to power irrigation systems – that are air-cooled to meet strict EPA requirements, and where fuel economy is of the utmost importance
Standby engines for rotating kilns – where the engine is activated as a failsafe in the event of power failure to keep the kiln spinning and prevent damage
If you're interested in learning more about our custom OEM services, please contact us today. One of our sales technicians will discuss your needs and help determine if we can be of service.