A History of Innovation & Support
Started in 1948 by Amos Stauffer to serve the needs of Lancaster, PA dairy farmers, Stauffer Diesel has grown into a leading distributor of diesel engines. Today, with two locations in Pennsylvania, the company is a top distributor of DEUTZ diesel engines and Mitsubishi diesel engines. The company began working with FPT Industrial as an engine distributor in 2020 as well.
However, even beyond diesel engines, we strive to serve as a comprehensive diesel power resource for our customers. That means that in addition to selling a full line of engines for all types of applications, we have a fully-stocked parts department and an expert service center that can repair and rebuild a wide variety of engines.
Thanks to this full-service approach, we find that our customers trust Stauffer Diesel to serve their every diesel power need – from helping to choose the right engine to supporting that engine throughout its many years of service. Because we've been in the diesel business for over 55 years, we have the kind of experience that matters and we're happy to share it with our customers.
Stauffer Diesel Core Values
The following core values are good to keep in mind as we carry o6t business on a daily basis here at Stauffer Diesel.
Persistence: persistence toward excellence
Ingenuity: solving challenges and seizing creative opportunities
Customer Care: proactively building relationships
Integrity: doing the right thing
If you see any employees demonstrating these characteristics and would like to highlight this, please reach out to Brends Stauffer so she can share it with the company.
Our philosophy of acting as a full-service resource for our customers includes the following areas. Please click to read more about our products and services.
If you're interested in learning more about our many services or have any questions about purchasing a DEUTZ, FPT, or Mitsubishi diesel engine, please contact us today. We look forward to hearing from you and we appreciate your interest in Stauffer Diesel!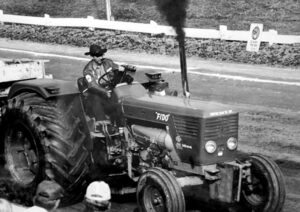 Why The Hat?
Did you notice the hat icon with the home buttons throughout our site? We use it as our way of honoring Amos Stauffer's memory as our father and founder of Stauffer Diesel. He typically wore his cowboy hat on special occasions like selling Deutz tractors and competing at tractor pulls around the U.S. Mid-Atlantic. That hat became a notorious personal icon for him among his big extended family and all who knew him. His hats were in different shades depending on the season.