< Back to Deutz Tier 4 Compliant Diesel Engines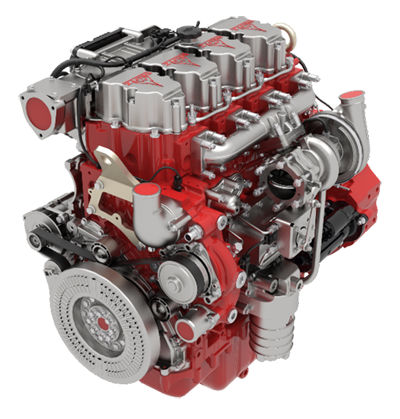 DEUTZ TCD 9.0
Water-cooled 4-cylinder inline engine with turbocharging and with charge air cooling. Engine and exhaust aftertreatment (EAT) are optimized for highest total system efficiency and thus ensure lowest consumption and total operating cost.
These new engines are equipped with highly advanced technologies including individual cylinder heads, a down speeding function for reducing fuel consumption and working noise levels plus a common rail system operating at an injection pressure of 2,200 bar. Up to 100 per cent power take-off is possible both at the belt and the flywheel side. 
The TCD9.0 packs impressive performance of an inline 6-cylinder engine into the footprint of a 4-cylinder engine, maintaining NVH characteristics and reducing fuel consumption. Thanks to dynamic balancing weights, the four-cylinder TCD 9.0 achieves the same smooth-running characteristics as the bigger six-cylinder engines. The 9-liter delivers 300 kW at 1,700 rpm and 1,700 Nm at 1,200 rpm.
Specs
4-Cylinder, 9 Liter Diesel Engine

301 – 406hp

Tier 4 Final
Features
Consistent installation and connection dimensions of the engine facilitate the changeover of existing installations to the next stage of the emission laws. The size and design of the engines will remain identical in the change to US Tier 4 and EU Stage V due to a protected technology. No changes to the customer's device. A variant without EAT is available as an option for less regulated markets. 
The powerful Common Rail injection system and the electronic engine control with intelligent link to the drive management ensure optimum engine performance at low fuel consumption. In terms of aftertreatment, for higher regulated markets, the engines are expected to have no EGR and meet Stage V emissions regulations with a diesel oxidation catalyst (DOC) + SCR with a diesel particulate filter (DPF) and SCR packaged in a single unit.  
For U.S. Tier 4, and CN 4, the engines will have SCR only.  For lower regulated markets the engines will meet  the requirements with just EGR and no aftertreatment. 
Long oil change intervals and easy changing of the engine fluids reduce the running cost and increase the availability of the machinery. 
Best cold starting performance even under extreme conditions. The extremely compact engine design and customer friendly accessories reduce the installation cost and increase the number of applications.
Downloads